Tuna
Tuna is a very interesting specie, and Bent Urup has been deeply involved in the process of successfull propagation of the Bluefin tuna.
The probelm with Bluefin tuna is though that it has an extremely poor feed convertion rate, and today it takes approx 20 kilo of fish in feed to produce a single kilo of bluefin Tuna.
In reality it will long term likely be the Yellow fin tuna which will have the higher commercial potential, as thsi fish fish has a higher potential of being farmed in landbased 'RAS facilities with a controlled environment, where the feedconvertion can be managed to a level shich is more sustainable.
The production concepts originally developed at Maximus, have played a key role also on the technology development for tuna production.
The Futuna facility in Spain is mostly an updated copy of the installations at Maximus.

Pictures of yellow fin tunas at day, 1, day 5, and day 15 post hatch.
(C-tuna-1, C-tuna-2, C-tuna-3)
The pictures above shows the development of yellow fin tuna larvae. Tuna workshop in Panama in June 2010, tuna larvae fed on copepods. Day 1, day 5 and day 15. Foto, Gavin Partridge.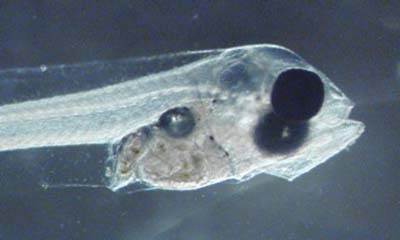 The participants at the workshop included 3 nations, Australia, United states and Denmark. Luke Cheviot(AUS), Luke Vanderberg(AUS), Polly Hilder(AUS), Dr. Bent Urup (Denmark), Dr. Daniel Benetti(USA), Zack Daugherty(USA), John Stiglitz(USA, Dr. Gavin Partridge(USA/AUS), Vernon Scholey(USA)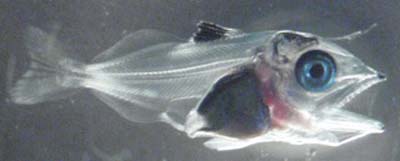 Below a serie of pictures from 2012, where Aqua-Partners was contracted to manage the production during start up of the facility.
Serie of BFT pictures, on larvae development.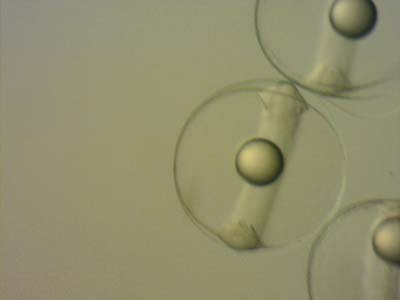 Tuna egg, 14 hours post spawning. (foto Bent Urup)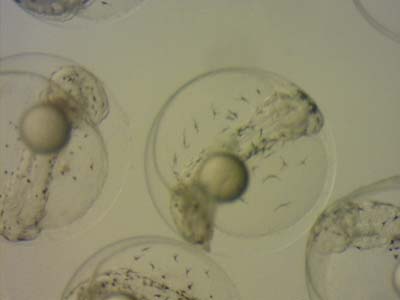 Foto, 30 hours post spawning. (Foto Bent urup)
The tuna larvae are hatching 2 days post spawning, below a tuna larvae, some hours before hatching.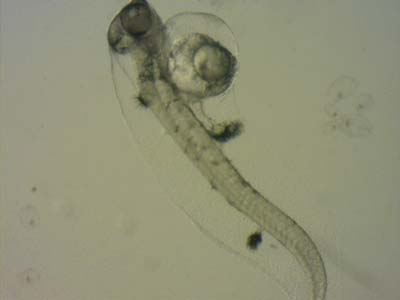 Tuna larvae, day 1, post hatch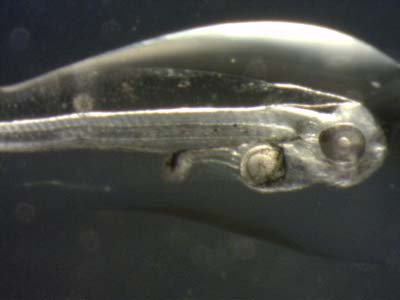 2 Days post hatch.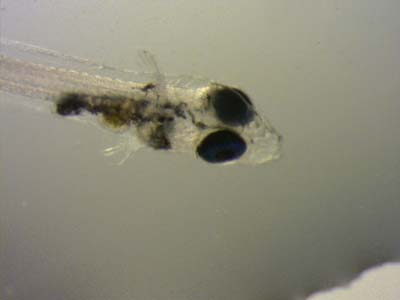 3 days post hatch.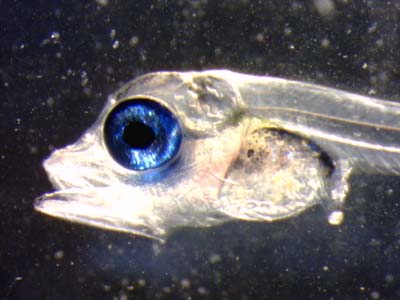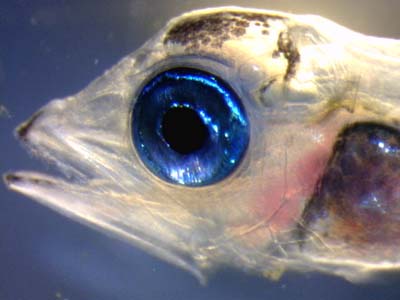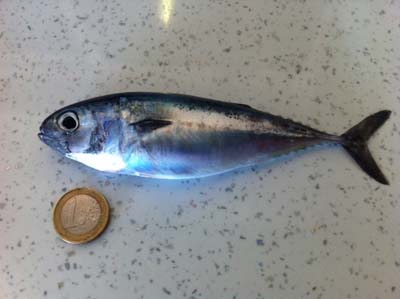 Tuna fry are growing extremely fast, this juvenile is 7 weeks old only. photo by Thomas Hofman, now Danish Salmon.
Cleans Seas have been one of the drivers in the development of tuna production, and Hagen Stehr saw the vision on producing fry for production as an alternative of catching tuna in the wild for stocking the cages. Hagen Stehr went for the RAS technology for the broodstock facility, but not for a copepod feeding strategy in the hatchery.
It might be possible some day to produce tuna fry without use of copepods, which is the natural diet for tuna larvae, but it might still take years to overcome the problems, and reach a point where the fry are not suffering from malnutrition when produced on alternative live feed products such as Artemia and rotifers, during the early feeding stages.